Every account is managed within the context of an Organization entity, where users can collaborate on projects, share data and resources.
Organization setup
Your account should be linked to an Organization, typically created and named during initial setup. If your account doesn't seem to have an Organization, please contact our support team here.
Users cannot create additional Organizations, but can join existing ones. To join an existing Organization, ask one of its admins to add you as a member.
Sub-Orgs and Client Orgs
If you need your customers/partners to have their own organization, so you can provide them with services and share projects, please ask them to:
Go to the relevant platform (either Dataloop.AI or any designated environment), signup by themselves, go through the onboarding process and create their organization.
Add you as a project owner to their project
Setting Paying-Account on Other Projects
If you need to set your organization's account as the paying subscription on a project created by a different organization (e.g the project is owned by your client, by as a service provider your organization is paying for it):
Make sure you were added as a Project-Owner contributor role to the relevant project
Go to the "My Dashboard" screen
Locate this project card among the different projects
Click on the 3-dots action button and press on the menu option "Set under [your organization name] account"



Active Organization (Active ORG)
The organization you are currently working on is defined as your "Active ORG" and can be seen in the left side menu. To change from your current 'Active ORG' to a different one, select a different organization from the ORG-Navigator at the top bar.
Every project you create will be linked to your active organization.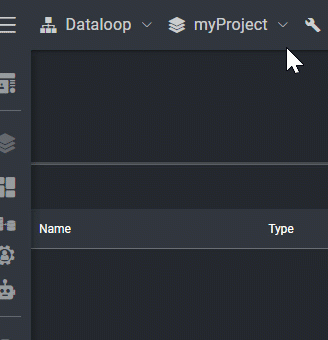 Organization Overview
Select "Organization Overview" from the left-side navigation menu to see a summary of all projects, datasets, tasks and members in your current "Active ORG". Drill into the data by selecting specific projects, datasets and tasks.
Tasks that are not 100% complete are considered active, and affect the definition of active datasets and active projects, containing such active tasks.
From this page you can rename your organization clicking the 3 dots at the top.
---
What's Next