Data Browser View & Actions
Data Browser View & Actions
---
The dataset browser enables you to explore your data, slice & dice it in any possible way using advanced filters, and organize it with a file-system-like folders structure or by tasks.

Access the dataset browser by clicking on the BROWSE button of every dataset .
Data View Options
View Type - switch between thumbnail and details view (list).
Details view provides more information on every image and enables pagination and sorting by every column.
The Thumbnail view provides you with a preview of the image, enabling selection based on files content.
Pagination - while in the thumbnail view, only a certain number of images are displayed 'per page'. You can scroll through the pages using the dedicated control.
Thumbnail Size - while in thumbnail view, you can use the slider to resize them, where the smaller they are, the more can be seen in a single page fold.
Uploading and Organizing Data
The dataset browser enables you to organize your files in file-system-like folders and subfolders structure or by tasks.

Using the task view, you can see items associated with the dataset's tasks. To activate task view, click on the "Task" icon (2).
Click on the "Folders" icon (1) to switch to folders view.
Click on "New Folder" (3) to open a new folder – you can now upload your files directly to the new folder, or continue and open subfolders.
Upload files by dragging and dropping them into the files area, or by clicking the "Upload" icon (4), which gives you the option to upload specific files, or entire folders.
Select files (for multiple selection, hold Ctrl or Shift keys, or check the box "No Selected Items" to select all items) and click on "Move Selected Items" (5) to move your selection into a different folder, or click "Delete" (6) to have the selected items or their annotations deleted.
Right click on a folder to open a menu with actions related to the folder: rename, move, delete, copy item path, or create trigger.

Download & Export
You can download your actual files (if stored on the Dataloop storage and not on your external cloud storage), or JSON files with annotations and metadata.
Click "Export" to download a zip file containing JSON files for items of the entire dataset, filtered files, or selected files only.
Click "Download Selected Items" to export the actual files.
Item Side-bar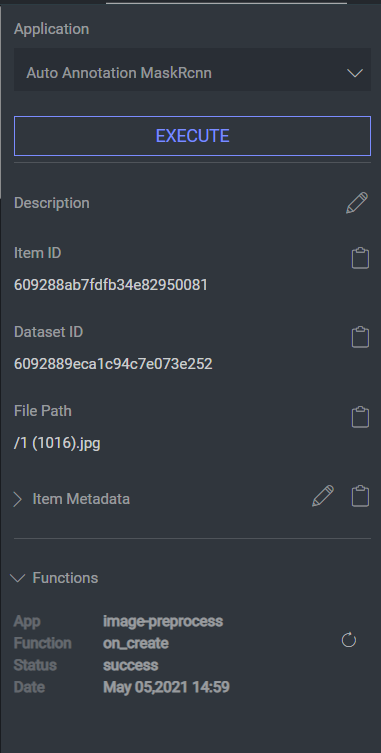 Select a single file to open its sidebar. The sidebar includes:
Applications/FaaS that can be executed on the item - select a function from the drop-down list and click "EXECUTE"
Read and edit the item description
Detailed item information and metadata
Applications/FaaS execution log
Triggers
Apply FaaS functions when creating, updating, or deleting items from a specific dataset, folder or active filter.
Just go to the selected dataset and folder, click on the

icon, select your function and item action and press create.
More about Dataloop's FaaS here.
Bulk Item Actions
The dataset browser allows bulk actions on items, instead of 1-by-1 through the annotation studio.
Bulk classification - select items, and choose a label from the drop-down list to have the label applied to these items.
---
What's Next